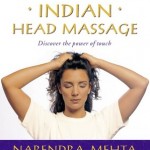 Discover the secrets of Indian head massage and feel fabulous. Indian head massage is a wonderfully relaxing therapy that involves massage of the upper back, shoulders, neck, head and face. The massage is safe, simple to learn and effective.
It can provide relief from aches and pains and stress symptoms, promote hair growth, soothe, comfort and rebalance your skin and give you a deep sense of calmness and tranquility.
About the author: 
Twenty years ago, Narendra Mehta was the first to bring Champissage to the UK. He is a qualified osteopath as well as massage therapist and has been blind since childhood. He and his wife Kundan run the London Centre of Indian Champissage which attracts students from all over the world.
Narendra Mehta: Indian Head Massage. Discover the power of touch
Verlag: Thorsons (2000)
Paperback, 160 Seiten
Sprache: Englisch